Queen Elizabeth Olympic Park
London's Queen Elizabeth Olympic Park will be home to world-renowned sports facilities, attractions, large event spaces and parkland.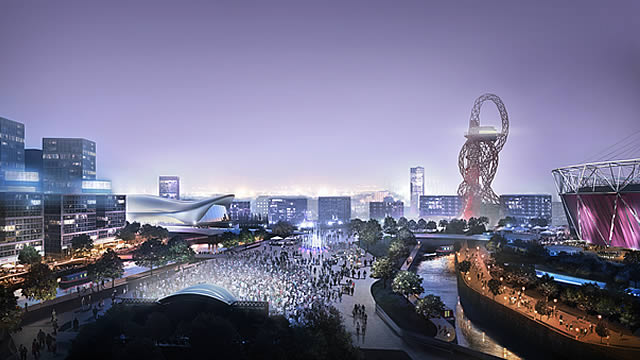 Queen Elizabeth Olympic Park
With an entertainment plaza in the south, anchored by the Stadium, Aquatics Centre and 114m (374ft) ArcelorMittal Orbit, Queen Elizabeth Olympic Park will feature fountains, art installations and ever-changing activities and events. Capturing the waterside spirit of London's south bank, this will be a vibrant new events space. This section is due to open in spring 2014.
By contrast, the north of the Park will feature a river valley centred around waterways, parklands and green space, offering outdoor activities, smaller-scale events, recreational and informal training spaces. The north of the Park is due to reopen in July 2013.
The Future of London's Olympic Park
Queen Elizabeth Olympic Park will attract up to 9.3 million visitors a year to a series of venues and spaces including:
The Zaha Hadid-designed Aquatics Centre, the UK's only facility with two 50m (164ft) swimming pools and a dive pool with dry land training
The Copper Box (used for Handball during the Games) – a 7500-capacity indoor arena for community, sporting and non-sporting events
The UK's first VeloPark with an indoor Velodrome, BMX, mountain biking and one-mile (1.6km) road race circuit
The Stadium – a 60,000-seater mixed-use stadium at the heart of the Park
A series of outdoor events spaces capable of hosting events from hundreds to tens of thousands of people
Olympic Park Legacy Company
The Olympic Park Legacy Company is responsible for the long-term planning, development and management of Queen Elizabeth Olympic Park after the 2012 Games. If you are interested in holding an event on the Park, please contact info@legacycompany.co.uk.
For more details about the Park visit www.noordinarypark.co.uk.